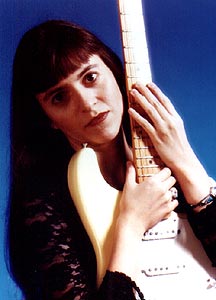 Catherine Denise is a young guitarist / vocalist / songwriter from San Antonio, Texas. She began singing at age 3 and by age 6 she was learning to play the piano.

She wrote her first song at age 8, and by the age of 13 began to take up songwriting seriously. During this period, she spent much time learning about the recording studio and made several recordings of her own music on the piano.
By her mid teens she discovered the blues through the music of Stevie Ray Vaughan and began learning the guitar. She spent many hours listening to many blues greats such as Stevie Ray Vaughan, Freddie King, Magic Sam, trying to pick up as many guitar licks as possible.
After a few years of sitting in with many bands, Catherine formed her first band, which was a trio. She eventually expanded her band by adding a keyboard player.

Her musical influences range from classical music which she was exposed to as a child learning the piano, to the pop/rock sounds she heard on the radio as a teen, to the blues and jazz she later fell in love with as a young adult.

Catherine has played in many venues across the United States. She has opened for Rick Derringer, Doyle Bramhall Sr., W. C. Clark, and Omar and the Howlers. She has shared the stage with Smokin' Joe Kubek, Deborah Coleman, Texas Johnny Brown, Bugs Henderson, Little Charlie and the Nightcats, and B.B. Chung King.

In 2005, Catherine was chosen 2nd place in the nationwide Blues icon Competition. She was also mentioned as one of the up and coming young Texas blues artists and included on the accompanying CD of the book "You Can't Stop a Comet," written by Stevie Ray Vaughan's road manager Cutter Brandenburg.

She recorded with Double Trouble's Chris Layton and Tommy Shannon on her debut CD entitled Treat Me Like a Lady which is currently being played on stations across the country and around the world.

Currently, Catherine has a four piece band and plays in venues across the United States.